Do you think you have to be on the bleeding edge of every marketing tactic? If so, you're probably suffering from head explosions. I'm talking overwhelm.  Information overload.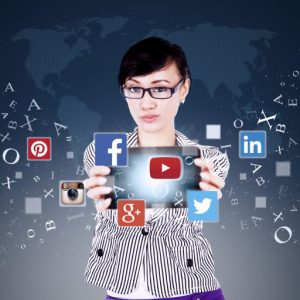 You're looking at trying to juggle Pinterest with Instagram and Facebook with Twitter. And is Tumblr still relevant?
And blogging and vlogging and YouTube and Facebook Live. And what about Snapchat.
What's a marketer to do?
Review Your Marketing Plan
You should have already crafted a plan that details who you're marketing to and how you're marketing to them.
People over a certain age are probably using tablets and sharing information on Facebook. And they're probably not on Instagram or Snapchat.
Some are. I'm not trying to clump everyone together. The key is to identify generally where your ideal target audience hangs out. Would you rather be fishing in an ocean or a bucket?
Have a Content Calendar
Know in advance what you're going to post and when. It can be monthly or weekly. For example, I have a website CookYourselfThin. My target audience is women 35-55 who want to eat better so they can lose weight. But they think healthy cooking takes too long.
I use a weekly content calendar.
Monday – Lighten a Classic Dish
Tuesday – Substitutions
Wednesday – One Ingredient Focus
Thursday – A Quick to Make Meal
Friday – Restaurant Quality Dish or Meal
Saturday – Healthy Habit
Sunday – Kitchen Skill or Small Appliance or Tool
This allows me to go in and find my content with a focus. I'll be releasing an ebook soon on Focused Facebook Ads that will show you how I drive traffic that converts.
Outsource or Batch Create
For this site and others, I'll find themes and write about four or five blog posts based on that theme. Then I schedule it over the next few weeks or months. It works with the content calendar.
But the bottom line is that if you're going to research one topic, you may as well write a few articles on it while the information is still fresh in your head.
Repurpose Content
Have you written an ebook? Created some videos? Wrote a bunch of good blogs? Re-use that content. The ebook could be turned into a series of videos. The videos could be turned into blog posts. The series of blog posts could be turned into an ebook.
Take a quote from one bit of your content and attach it to a vivid stock image in Canva. Then post that on the image based sites along with a call to action to click through to read more.
That's it for now. I'll write more tips in a future post. (maybe I'm writing it now and scheduling it…maybe I'm not…but what do you think?)