My friend Richard Butler just released his new program Mastermind 1 on 1.

 I know Richard and got early access to review. I was so impressed and learned a ton. Usually I'm telling you that we already know stuff….we just need to be reminded of it. In this case, I learned a lot of new ways of thinking.
Richard interviews the experts and you get 9 hours of video success talks with some of the leading experts in the Internet marketing industry
Who Are the Experts
Here's a rundown on the panel of experts:
Alex Jeffreys – from dead broke 10 years ago to owning one of the fastest growing companies in North America
Erik Stafford – the man who walked away from 3 successful businesses he built – he deleted customers, lists, products – why he did it and how it helped him
Reed Floren – never had a job in his life, but continues to earn day in day out from the internet. Find out his secrets
Felicia Slattery – from college professor to one of the sought after speakers and trainers in the business – find out why you have to know how to communicate even if you will never be on stage
Stuart Tan – one of Asia's leading professional trainers, to date he has trained over 500,000 people. He talks about NLP and how to program yourself for success
Mark Lyford – from living it up in the Bahamas to spending a couple of years in jail, his story is of a survivor and go getter. Learn from him on what it takes to keep on going.
There are more experts as well. It's time to grab this while it's discounted, use code launchspecial to get an instant 25% off.
Why Is It So Great
It's better to learn from other people's mistakes. Ultimately you're going to make your own mistakes. But wouldn't it be better to avoid the basic ones because you learned from people who already made them?
Then you can become an expert when you make your own mistakes and get interviewed or publish a book.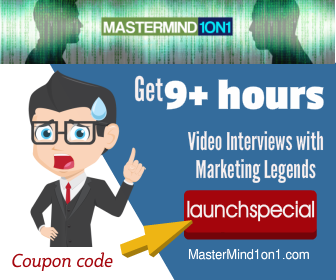 Richard has a great style for interviewing them. He knows when to let them talk and when to bring them back around. Not once did I feel bored. In fact, I got so caught up in watching them that I forgot to do some of my actual work. So make sure you pace yourself.
There's a full 30 day money back guarantee so it's risk free. Just make sure you start watching a video after you buy it.
I'm guilty of buying and not using the product myself. Don't do that. Normally I'm the one telling you to buy the just in time products and not the just in case products.
This is a just in time.  We're in the third month of the year. If you've been working steadily and not seeing any results, you may be getting disappointed. That's when it's essential to fill your mind with positive thoughts and increase your belief that you will achieve it.
These experts have all been where you are. The difference is they persisted despite mistakes and setbacks. So go buy it and give yourself the support you need to succeed.